Guest won't be able to tip their servers  any more at two local  Providence  resturant According to ABC 6 , both Rosmarin at Hotel Providence and Vinya on Westminster Street are going to go tip-free and instead do  a 22% fee.  Married owners Massimilliano and Alethia Mariotta told ABC 6  that they are taking tipping out of their restaurants and instead implementing a 22-percent fee on their meals.
Here is what the  New York Times said last year about going tip Free
Going tip-free makes the experience simpler for all involved. Restaurant owners do not have to worry about the mechanics of dividing tips among the entire staff and settling up at the end of shifts. Servers do not have to worry about being stiffed or being penalized for things that are not their fault, such as poorly cooked food. Cooks, dishwashers, and other support staff will get equitable compensation. Diners do not have to bother with calculating tips or deciding whether the service warranted more or less than a standard tip.
"Everybody, the dishwasher, the prep, the chef, the busser, the server, share this success and everyone should be having a living wage," says Max Mariotta.
Restaurant workers will make around 12-15 dollars an hour without tips, compared to the state minimum of $3.39 with tips. Mariotta says instead of a tip, they are charging the customer 22 percent fee on their meal.
"This is what most restaurants/hotels put on the bill when you have a party of four or more or six or more. It's usually between 18-22 percent," he adds.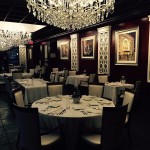 Here is some Swampie buzz on no tipping when the NY Times article came out last year
If they get paid that much there should never be an automatic gratuity on the bill. If that ever passes, you would see some businesses close and others increase the prices. As a former waitress, leave it the way it is. I tip accordingly. Good service, good tip, bad service, not so good tip.

Tipping for good service will be hard to stop, especially for an "old" bartender like me.
On the other hand, tipping has always been to augment a very low wage, $15 an hour, is in some cases 5 times current wage. $120 a shift is considered good money any day of the week.

It certainly will help in those cases where the customer doesn't understand what tipping is for, ie, those who subtract for long food waits, crying babies, bad ambience, et

In Europe there is no tipping. It's part of their wage. Granted, there's also no free refills but a penny saved is well, a penny.