Going out to eat on a Saturday  check out the local dining specials South Shore South of Boston . Most of them are for dining in and have some restrictions. As always, the restaurant has a final say if the special is still on.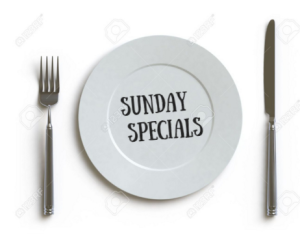 All Friends Smokehouse Westport MA
"Football Sunday Deal – 18 wings (up to 3 flavors) and a 2 liter of soda $17.95
24 individual ribs, 2 large sides, and a 2 liter of soda $39.95
Dine in or takeout"
BaHa Brothers' Sandbar Grill Taunton MA 
Stop in on Sundays for delicious half-price pizzas. (excluding gourmet pizzas)
Captain Fishbones  Marina Bay Quincy MA
Dinner for Two with a Bottle of Wine $ 29.99 Plus Tax & Tip Choose any two dinners with (2) caesar or garden salads and one bottle of these selected wines will be included in the price Dine in only 5-close Thursday-Sunday night
Ecco Trattoria Bar & Restaurant Weymouth MA
Pasta nights at Ecco Every Sunday, Tuesday, & Wednesday No coupons of any kind accepted on Pasta Night Items  Pasta Dishes Pasta Dishes (all served with choice of pasta) Mixed Greens Salad or *Caesar Salad included with all Pasta Night items  Most are $13.95
Riviera Cafe Brew house  Bridgewater MA
$1.99 cheese  pizza eat in only 12-9pm
Make sure you check out the local discount websites to help stretch your dining dollars Groupon ,   Living Social  and Restaurant.com
Make sure you check out local Entertainment books  and MassPass books as well.