SWAMP MOB BUENA SUERTE #7 will be held at Casa Cancún in Wareham on Sunday January 3rd  at 6pm . It will be Swamp Mob Mexican style!!   Casa Cancun opened up this past year in at the Wareham Crossing  shopping area and is the sister restaurant of popular Mexican Restaurant Cancun Kingston.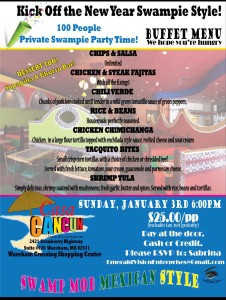 What is a Swamp Mob?
.A Swamp mob is a pre arranged dinner that Swampie mob the restaurant kind of like a cash mob.   Swampie have been hitting local restaurants to share in good food and conversations.  Calories never count at a Swamp Mob and who starts their New year diet before the first Monday of January.
RSVP to Sabrina at Emeraldvisionenterprises@gmail.com (not the email in the poster)  A prepaid option will  be available later today,   but RSVP your intention.
Here is some of the Buzz on Hockomock Swamp Supper Club facebook group
Went to Casa Cancun tonight in Wateham! Great food, nice people, wonderful service. We had $9.99 Wednesday fajitas. One with shrimp and one with chicken. Also, a El Presidente Margarita. So good

Went to casa cancun in west wareham. Chips n salsa were ok (I prefer chili's lol) ordered combo platters with chimichangas…burittos…and something else. Husband wanted fish taco but they couldnt do it bc they make them in sets of 3..he was disappointed but moved on. Daughter got a burger which was sad to look at lol. They charged for sour cream and guacamole without telling us there was a charge. Food was fine. Husband left sweating so I guess his was spicy lol

Tonight we had to run some errands and decided to try "the New Mexican place." Casa Cancun in Wareham. This after several months of starting off to eat there and changing our minds on the way. I'm bummed we waited. Everything was good and fresh. The hostess and our waitress were equal parts kind and sweet as well as understanding when the littler man decided it was time to go. We both got combo plates. I had a chicken chimichanga and a chili reilleno (sp) and the big guy had a burrito, enchilada, and a chili as well. The food was well seasoned and the retried beans were great. I usually beans and these were excellent. We also had some guacamole to start which was delicious. The complimentary salsa was a bit spicy, but good. The munchkin demanded that the refried beans be his first food which is why we left fairly fast. With a tip dinner was $45 which is amazing considering the boat of guac and the huge portions. We will be back. (Be prepared!)
Located in Wareham Crossing Shopping Center
Casa Cancun Family Mexican Restaurant
Wareham Location
2421 Cranberry Highway
Suite 426
Wareham, MA
Comments
comments