The 6th  Annual Bridgewater Community Lions   Chili Chowder Challenge for Charity!  will be on Sunday April 2nd  from 1-3pm at the Senior Center.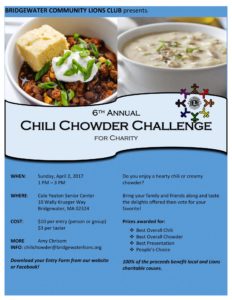 Come on out of the cold for a good time with friends. They will have festive music, raffles, a silent auction and snacks & desserts plus lots of CHILI and chowder.$3.00 a taste tester!!
Best Overall Chili
Best overall Chowder
Best Presentation
People Choice
$3 admission
You can enter your chili or chowder for $10. Each entry should include a crockpot full of chili (optionally: cheese or appropriate topping and the crackers or chips that best complement the chili).
You will need to provide a name for your chili that best describes it so that those eating the chili will know what to expect. (HOT Peppers Chili, Sweet and Sour Chili, Veggie Delight Chili, etc.). Have fun with it!
You can also decorate your table space to complement your chili. Tables will be provided but you will need to bring an extension cord and your own decorations. There will be an award for best decorated table. (Table decorating is optional.) Make sure you bring a serving spoon. We'll provide the serving cups for tasting.
Bridgewater Senior Center, 10 Wally Krueger Way, Bridgewater, MA 02324
Comments
comments