If you are looking for something fun and different to do with food and Boston!  here are some walking tours of the city.
Most Saturdays 10:15 Tickets starts at $24
What better way to spend a Saturday morning than enjoying chocolate samples while strolling through Boston's scenic neighborhoods? The Back Bay Chocolate Tour gives you the chance to indulge in some of the tastiest treats available, while your guide provides tips on tasting, buying and storing high-quality chocolate. Beginning at Flour Bakery, this 2.5-hour walk takes you to a Swiss chocolatier famous for its Dom Perignon Champagne Truffle, a famous New England ice cream maker focused on fair-trade chocolate, and maybe even a shop that offers bites of a chocolate-covered cricket or worm. Along the way, you'll also enjoy seeing city landmarks, like Copley Square, the Prudential Center and the Public Library.
Most Saturdays 11:30am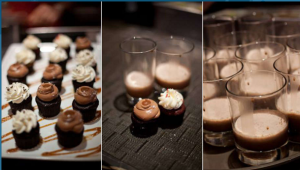 A perfect and perfectly sweet tour for a chilly day in Boston, Hot Chocolat's friendly and knowledgeable guide will take you to a variety of bakeries and cafes and lead you through tastings of the best warm chocolate beverages the city has to offer. You'll sip five or more custom cocoas, including one with alcohol, and soak up some culinary history, as well as sampling several baked goods and chocolates. But this 2.5-hour walk also takes you through famed neighborhoods like South End, Back Bay and the Boston Common and Gardens.
Comments
comments