The Braintree Chamber of Commerce present the   4th  annual Pizza Palooza! A best of Braintree Pizza night on  Tuesday June 21st from 5-730pm at Braintree High  school.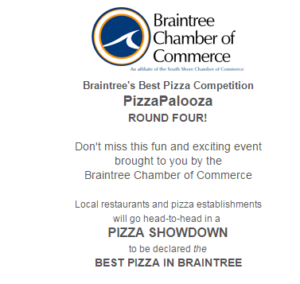 Some of your favorite local restaurants and pizza establishments will go head to head in a PIZZA SHOWDOWN to be declared Braintree's Best Pizza! Here's your chance to sample as many different pizzas as you like and vote for your choice!
Tickets are $10 per person/$25 per family and can be purchased at the door, the day of the event.All proceeds will benefit the Braintree 4th of July Celebration.
This year's participants are:
Brew House – Rosie's – California Pizza Kitchen
Pizzeria Uno – Montilio's – South Side Tavern
The Chateau – Richardi's – Angelina's
Campanali's – Easy Pie – Wamps
Papa Gino's – Georgianna's
Braintree High School
128 Town Street, Braintree
Comments
comments