Alfredos  of Quincy recently announce on their facebook page that they will closing later on this year.  They didnt give an exact date so if you are looking for a last meal.    They will close on December 23rd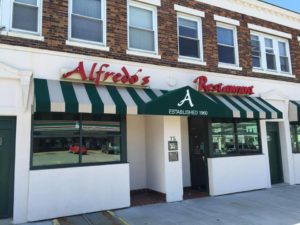 Hello all! Alfredos unfortunately will be closing toward the end of the year. We are not sure on an exact date but we will keep everyone posted. We would like to take this time thank all of our valued customers for making the past (however many years…) such a great experience. It wasn't just the food or our drinks that made Alfredos special, but our supportive customers that became more like family. Your patronage has been greatly appreciated and will be missed. For anyone who has gift cards, we will continue to honor them until our last day. And for those who can't make it in before our final day, we will honor them at our sister restaurants, Sofia Italian Steakhouse in West Roxbury and Amelias in Stoughton. To our valued customers, this is not goodbye but an ill see you soon, as we hope too see everyone at our other restaurants. Thanks again.
The Quincy Sun reported that the liquor  license has transferred to the Fusion Kitchen,
The Board of License Commissioners on Tuesday approved a request for the transfer of the all alcohol license held by Alfredo's Restaurant at 75 Franklin St. to Fusion Kitchen, which will open in the same place.
Limited Swampie buzz
Went to Alfredo's Restaurant in Quincy… Never disappoints ! Huge portions! I had the Seasood fra Diablo, (linguine with shrimp and lobster in a red sauce) and he had the King Cut Prime Rib with fresh string beans and home made mashed potatoes , Two glasses of Chianti… Warm bread with a Gallic, crushed red pepper dipping sauce and a cup of minestrone soup. Service was great and we are even bringing home leftovers! Will be back again…$78.00 including tip but well worth it!
Here is the their final closing announcement posted on facebook
Comments
comments