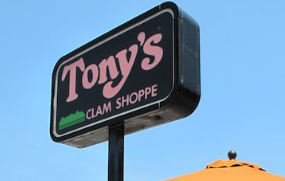 Tony's Clam Shop,  is   local favorite   that has been  on Wollaston  beach in Quncy   for over 50
years.   It is casual dining where you order at the counter.   They  cook all all  menu items to order as a commitment to excellence our customers remain loyal to. They use only the freshest seafood and produce items available. We are proud of our  longevity in the business. We attribute that to our commitment to excellence and our loyal
customers.
Tony's menu is full of comfort favorites such as hot dogs and burgers, seafood options, and even Middle Eastern specialties, like tabouli and falafel! Tony's has their liquor license giving customers a variety of beers and wines to choose from.
Here is the Swampie buzz of the Tony's Clam Shop on Wollaston Beach
Tony's Clam Shop, in Quincy. I wasn't all that far at the time so, figured to stop in. For a first, I parked around back, which quickly turns residential. Inside, I was soon greeted at the counter. Was a tad undecided. I almost got the Seafood Platter but, instead went with a 2-way of Whole Belly Clams and Scallops. With a good pour of draft Cisco Whale's Tale.
I enjoyed every bite. Clams tasted of the sea. Scallops were impressive. Big surprise was the cole slaw. So much better than before.
As always, well worth the trip!

I've lived here 32 years and had not yet eaten at Tony's Clam Shop on Quincy Shore Dr in Quincy. Since we needed to celebrate Father's Day early and the weather was fabulous we headed to Quincy Bay for seafood. Our dishes didn't disappoint. Crab cakes were mostly crab with a tasty remoulade sauce. Shrimp were some of the freshest I've had in some time. Good fries cooked well. Even the cole slaw was crunchy with a good sauce and I'm fussy about my slaw. Sitting outside with great views of the Boston skyline and the water is fabulous but tempered by the four lanes of traffic at your feet. Great food but $$$$. Constant stream of customers must mean it's worth the price!

Tony's Clam Shoppe is awesome. I grew up going there as a Quincy kid. Anyhow, this is the broiled fish dinner. It's a generous portion of haddock (I had already eaten at least 3 ounces before taking the picture) with lots of rice and salad for $18.95. Three meals worth for me (at least).

Pit stop in Quincy, at Tony's Clam Shop. Across from Wollaston Beach. For a first, we tried their Lobster Roll with melted butter. Gets its own section on the board. It is $22.95 and delightful! Along with a combo plate of deep fried shrimp and scallops.
We soon realized that picking off delectable bites was better than trying to bite into the overstuffed roll. So much! The deep fried was done to perfection. Batter and all.
Service is exceptional in terms of asking for condiments like lemon slices, mayo and cocktail sauce.
Needless to say, we are big fans.

Tony's clam Shop in Quincy… What can I say that isn't obvious from this picture? Hands down, the best fried clams I've ever had. And I've eaten more than my share. I'm ruined now. Not a trace of grit or sand anywhere. Ridiculously fresh, crispy coating, tender as could be. I want more right now.

HANDS DOWN one of best seafood in and around new enland ..im crazy about my seafood and bow im crazy about tony's…absolutely incredible….great prices and our plates were stacked high….very intimidating an worth the ride….ill be back for sure

I really loved the place.. The mouth watering and delicious food along with the fresh and lovely breeze was enhancing the beauty of Wollaston beach and flavor of summer.. We ordered fish and chips and a full plate of lobsters fry.. The quantity was too good and the price was quiet reasonable..I went with my husband and we both couldn't finish the meal, due to its quantity, we were over loaded..
Open Spring,summer and fall
Tony's Clam Shop, 861 Quincy Shore Drive, Wollaston, MA 02170, 617.773.5090